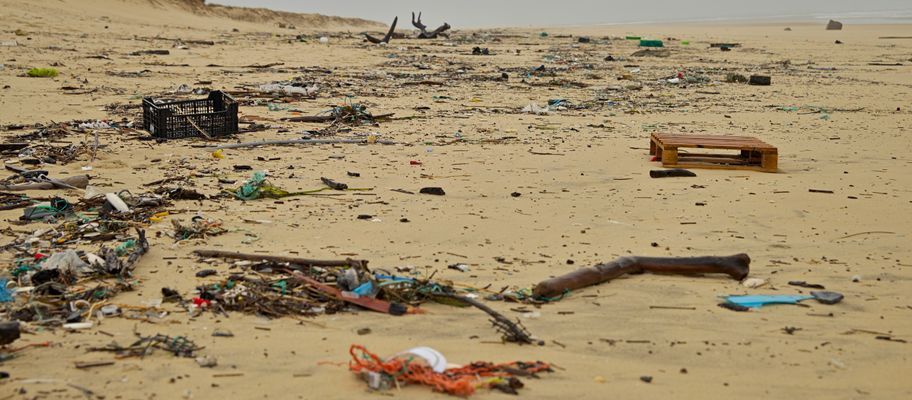 We know what you're thinking. Everyone already has face masks because we keep being told that we shouldn't be going out in public without one. This may be correct, but how many people do you see wearing those blue medical disposable face masks when you're out and about?
If it's anything like us, then we see them all the time. We also see them blowing around on the floor, normally around hospitals where visitors are given a surgical face mask at the door before they are allowed to enter. Disposable masks are becoming such a problem, causing immense amounts of plastic waste, that BBC Scotland reported that face masks and PPE are being found on a quarter of beaches and are endangering wildlife:
"The MCS said wildlife was put at risk by PPE in which it could become entangled. It said recent pictures showed seabirds' feet wrapped in the elastic strings of face masks. Marine animals could also mistake masks and gloves for prey, filling their stomachs with materials which will not break down and could prove to be fatal."
It's not just the coasts that suffer either, as inland litter surveys carried out revealed that masks and gloves were found at 69% of sites. UCL's Plastic Waste Innovation Hub also recently found that if every person in the UK used one single-use mask every day for a year, it would create a staggering 66,000 tonnes of contaminated plastic wasteand ten times more climate change impact than using reusable masks.
There's no doubt that disposable face masks are here to stay and we're not advocating getting rid of them, especially as they're cheap to give out to people who may be trying to enter a building without a face covering. You could also say that people shouldn't be dropping them on the floor in the first place, but the laziness of some people apparently knows no bounds and littering will, unfortunately, always be a problem when you've got people who just don't care.
However, one way to cut down on the amount of disposable face masks going on the floor or to landfill sites is to buy and use a reusable face mask. These face masks are designed to pop into your washing machine so that you can wear them for as long as you wish. It's environmentally friendly, a more stylish alternative to the drab medical masks and will save you money in the long run as you won't have to constantly replace them.
Washing reusable face masks is as simple as putting them in the washing machine with detergent and a high temperature to ensure you kill any microbes that may have been caught in the mask. You can also wash them in a bowl of warm water with soap, but make sure you wash them as thoroughly as possible.
Vision Linens offers a range of reusable and reliable face masks in assorted designs and colours. These 3-ply face masks benefit from antimicrobial technology with silver-infused fibres that inhibit the growth of odour-causing bacteria. While these aren't medical grade, they're perfect for everyday general use and incorporate a filtering layer to provide the wearer protection against large droplets.
Our reusable face masks are available in packs of 10 for £20 each (£18 if you create a free account with us). We're also now offering a special promotion:
Simply add a single packet of 10 face masks to any basket over £100 and we'll take off the cost of it at checkout. No discount codes are required. Our free face masks promotion is limited to one pack of ten per order. Subsequent orders over £100 are also eligible to receive free face masks.