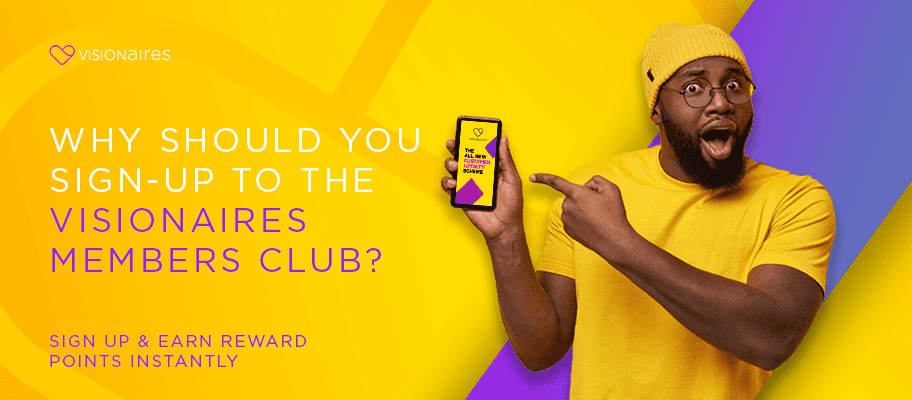 Why Should You Sign Up To The Visionaires Members Club?
You can create an account by clicking here. But first, take a minute to find out the benefits of signing up for an account with us:
It's completely free - All we require is your name and email address. Create a password and then you're free to login as you please.
Our Visionaires Members Club rewards you for every interaction you have with us online. The more you spend and the more you share online, the more points we'll send your way to redeem against our products.
How To Earn Points
For every €10 you spend, you'll earn 1 Reward Point.
Earn an instant 5 Reward Points for registering an account.
For every product or service review you post, we'll reward you with 3 Reward Points (please allow 3-4 working days for these to apply to your account).
Refer a friend and receive 5 Reward Points when they place their first order.
Earn points through sharing our products on Facebook, Instagram, Pintrest and X using the links from our website product pages (max points allocated 3 per customer, per day).
Spend Points & Receive Discounts
For every Reward Point spent, you can redeem €0.50.
You can redeem your points straight away with no minimum points amount required.
Here are some more benefits you get from becoming a member:
Be the first to know about our sales, promotions and new products, as well as our handy industry tips – You can receive our newsletter where we send our news of our sales and discounts. Don't worry, we'll never spam you or share your email address and our emails don't arrive every day. You're also free to unsubscribe at any time. Just click the 'unsubscribe' link at the bottom of all our promotional emails and you won't receive them again.
Check out faster – You'll never need to renter your details after your first order, as we save your address to your account. Of course, you're free to enter a new address at any time too and can save multiple addresses for using at the checkout.
View your order history & reorder – As a member you can view your full order history and even quickly reorder the same products without having to find them and add them to your basket.
If you have more questions, be sure to read our Visionaires Members Club frequently asked questions page. You can also read the full terms & conditions by clicking here.
So, what are you waiting for? Click here to sign up and create an account with us!