Pillowcases (otherwise known as pillow covers) complete bedding sets in terms of both functionality and comfort. Not only do they protect pillows from dust, dirt, stains and facial oils, but add a comfortable and attractive touch. As a species, we sometimes love nothing more than hugging a cosy pillow to make us feel relaxed and reassured while waiting for our senses to fall asleep.
Obviously, what suits one person might not suit another, which is why there are a variety of pillowcase types to suit a variety of budgets and room requirements. From the luxurious to the no-hassle, we stock them all right here at Hilden. But what's the difference between a housewife pillowcase and an oxford pillowcase? Why does the quality of the cotton matter? Let us explain.
What is a Housewife Pillowcase?
Housewife pillowcases are found in almost every domestic home. They're a standard case that snugly covers the entire pillow to avoid creasing, sagging and any escape attempts from the pillow inside. Being the most popular and generic type of pillowcase means that housewife covers are also a very cost-effective option.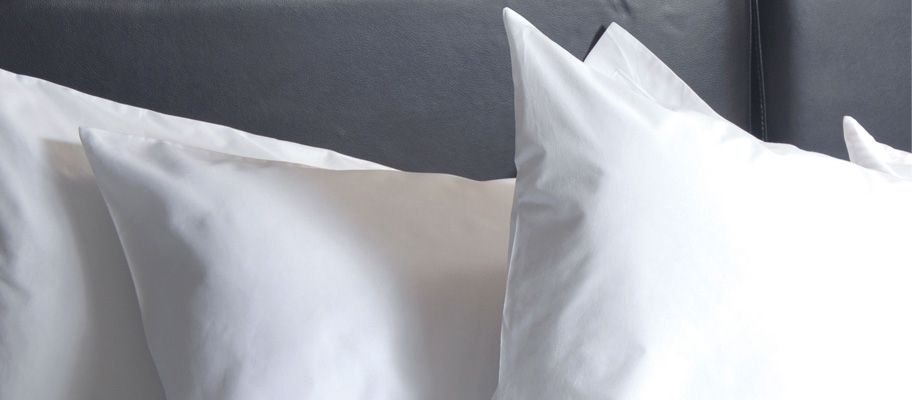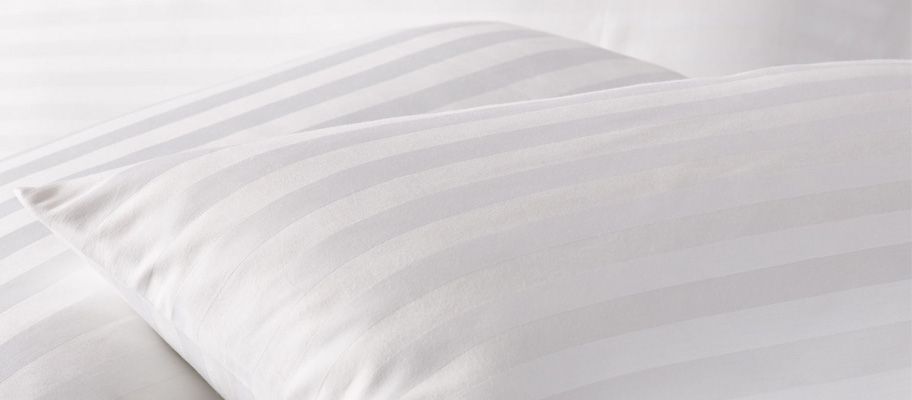 What is a Bag Style Pillowcase?
Bag style pillowcases are by the far the easiest and lowest maintenance on the market and are understandably loved by the hospitality industry. Rather than incorporating the poppers, buttons or interior flap of a normal housewife pillowcase, the entrance to a bag style cover is completely open, with folding ends that can be tucked in to provide that all important neatness and finesse. Bag style cases are fantastic for B&B owners and housekeepers for whom time is of the essence, allowing easy access when changing a bed.
What is a Mock Oxford Pillowcase?
Mock Oxford pillowcases are the most elegant and luxurious of our cover types. Incorporating a decorative frill around their edge, mock Oxfords are great for people wanting to add extra impact to their establishment's bedrooms. However, mock Oxford pillowcases aren't to be confused with normal Oxford cases, although you could barely tell the difference. The border of a traditional Oxford includes mitred corners, whereas a mock case doesn't.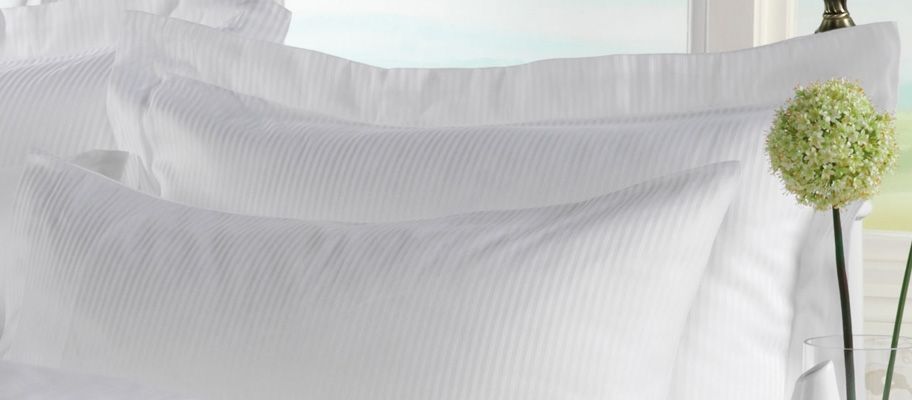 We offer a wide array of luxurious and extremely comfortable pillowcases that can be purchased in any of the impeccable styles above, as well as in a variety of fine materials. Below we'll talk about the different types of pillowcase materials that you can buy here at Vision Linens.
80/20 Cotton Rich Blend
A long lasting and quick-drying option for those on a budget of both time and money, this pillowcase provides a cost-effective option that doesn't scrimp on quality and incorporates a satin stripe for that little bit of extra luxury. View our cotton rich blend pillowcases here.
200 Thread Count Cotton Percale
The higher the thread count (t/c) the sounder and more luxurious the sleep, especially when it comes incorporated into a pillowcase made from superior combed cotton. This case provides guests with a clean, crisp space to rest their head.
300 Thread Count Sateen Mercerised Cotton
Pairing a soft and subtle quality thread count with 100% mercerised cotton to make the elegant sateen fabric, this pillow is sure to please the most discerning and sophisticated customer.
300 Thread Count Mercerised Cotton
Although a little simpler in appearance than the sateen case, this purely mercerised 100% cotton version exudes timeless luxury by incorporating unrivalled comfort and satin stripes.
Educating yourself on different pillowcase types and the most suitable and reliable textile products is a sure-fire way to give both yourself and your guests a satisfying and worry-free rest (and ensuring the sleeping environment is comfortable is just one factor in getting a good night's sleep). Don't just value their custom, value their comfort.
Now that you know about pillowcases, why not read our pillows buying guide to find out more about the best pillows?