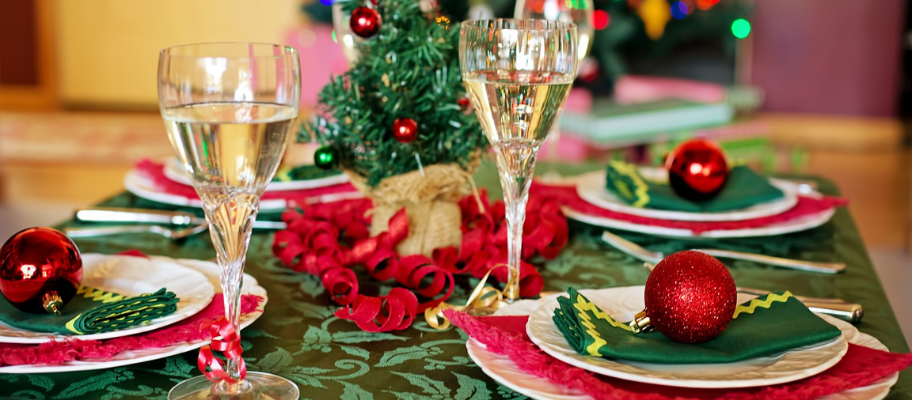 It's the most wonderful time of the year! (It really does come around quick, doesn't it?!) Christmas dinner parties will be aplenty over the holiday period as family and friends gather for a festive feast, so it's important to create the perfect ambience for when you wine and dine your guests this December.
You'll want your tables to look as special as the memories being made at them, so here are some helpful ideas on how to create the right look for your restaurant or dining area.
Theme
When it comes to table linen, it's best to opt for a colour scheme that matches or complements your interior. For example, if your walls are pastel-coloured, white and blues are great to give your dining area a winter wonderland feel. Alternatively, if it's a classic holiday vibe you're looking to create, colours like deep reds, greens and gold can be used to execute a traditional look.
Single-colour designs are especially striking for modern table settings. A solid crisp white tablecloth never fails to exude elegance as a base for decoration, and can be paired with any colour as a sleek slip cloth.
You can shop our large range of table linen here.
Cutlery and Place Settings
Christmas table settings always work best with silver or gold cutlery, as they can create a dazzling pairing with many festive themes and colours. For the best results, it is recommended to pair silver cutlery with cool colours and gold with warmer tones.
Setting up cutlery for Christmas dinner can be done following the same rules when laying the table for any formal dining occasions. To the left of the plate, lay a dinner fork and beside that a smaller salad fork and to the immediate right, a dinner knife beside a soup spoon. A dessert fork and spoon should also be placed horizontally above the plate.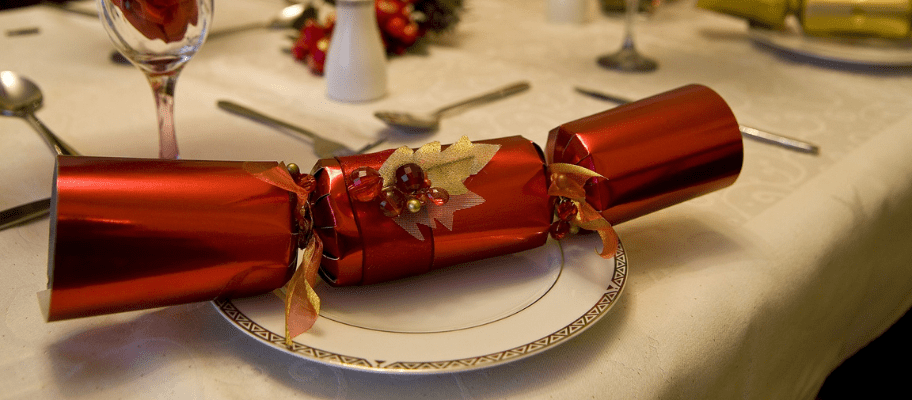 Napkins
If you want to make a decorative feature of your napkins, there are some incredible origami designs out there to give a whirl. There are even some specifically for the festive season like this miniature Christmas tree design. Alternatively, if you want to keep things simple, napkin rings are a great finishing touch to any place setting. These can be matched in colour to your cutlery to keep consistency in your chosen themes.
Centrepieces
A decorative centrepiece always goes down well. These can be created using an assortment of baubles, lights, twigs and/or seasonal foliage. Light up centrepieces are great for adding a glow and a touch of sparkle to a dinner table. Whilst bright white or multi-coloured lights work great for a modern feel, warm lights can too be used for creating a cosy, relaxing atmosphere at a more traditional table setting.
Christmas wouldn't be Christmas without a tree and there are some great table-top options out there, ideal to wow your guests if used as an eye-catching centrepiece. There are metallic options, pre-decorated and pre-lit trees that can all be used to impress diners.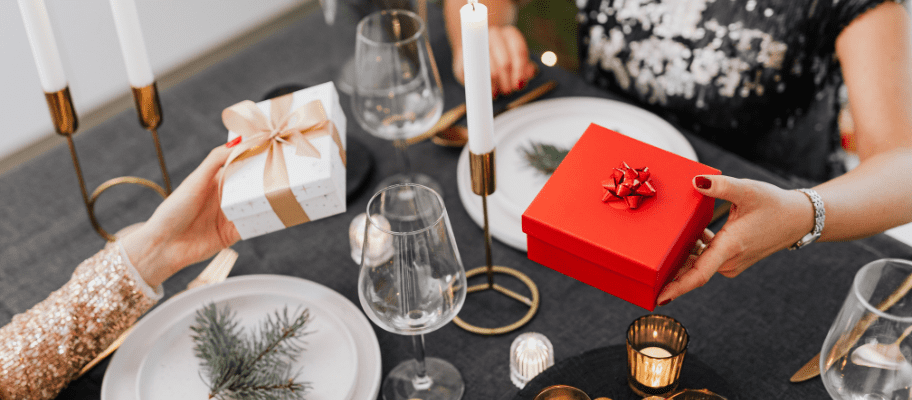 Candles
If you are looking to add a touch of warmth to your dining table, candles are a great additional feature. Used as part of a centrepiece or simply on their own, white candles particularly can fit into almost any design and setting. Short, stocky candles work well in traditional table arrangements while tall, thin candles look lovely as part of more modern set-ups.
Finishing Touches
Start Christmas celebrations with a bang (quite literally) with some crackers to pull with your loved ones across the table. As well as aesthetically pleasing, there are Christmas crackers available with a whole variety of fun goodies inside. Party favours are also a great addition to any dinner party so they're perfect for adding a little extra treat to dining experiences over the holiday period. Personalised pieces or sweet treats such as chocolates or candy canes are great additions to put smiles on the faces of your guests.
Looking to start your journey with Vision Linens? Join our loyalty club and start earning points.